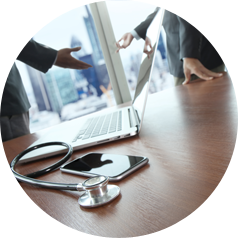 Physician Search and Placement
We offer both Retained Search and Contingent Fee permanent physician services and locum tenens placement services. Over the past 40+years, our senior staff has placed over 10,000 permanent physicians with medical practices, hospital groups, and managed care organizations across all fifty states, Western Europe, and the Middle East.
Locum Tenens Services
We offer Contingent Fee physician placement services to assist with all temporary physician staffing needs. With our senior staff having fulfilled over 5,000 locum tenens placements over the past 40+ years, we are uniquely qualified to locate qualified candidates and negotiate mutually beneficial incentives for short-term assignments.
Physican Manpower Assessments
Using our decades of experience in the national and regional physician manpower markets, we are able to credibly project the market demand for physicians in targeted service areas. This can include assessing the actual FTE of practicing physicians in particular specialties, generating regional demographic projections, and analyzing the competitive service areas' current/projected physician manpower plans.
Physican Retention and Stablization Services
Being able to stabilize a problematic relationship with an employed or partner physician can often be less burdensome and expensive to a practice than the process of dismissal/buy-out, recruitment, and acculturation of a replacement. If cultural, governance, or financial instability are affecting a hospital or practice's ability to retain physician staff, we are often able to intervene, assess the underlying issues, stabilize the environment, and recommend long-term solutions for stability and maintaining sustainable staffing.
Practice and Billing Manager Search Services
Cynergy will assist with developing the job description, ideal candidate specifications, and compensation package, then can proceed to recruit and screen candidates. The top candidates are presented for the physicianu2019s review, consideration, and interview. Cynergy Will recommend which candidate our consultant's believe to be best prepared and suited for the position.